How long do eyelash extensions take?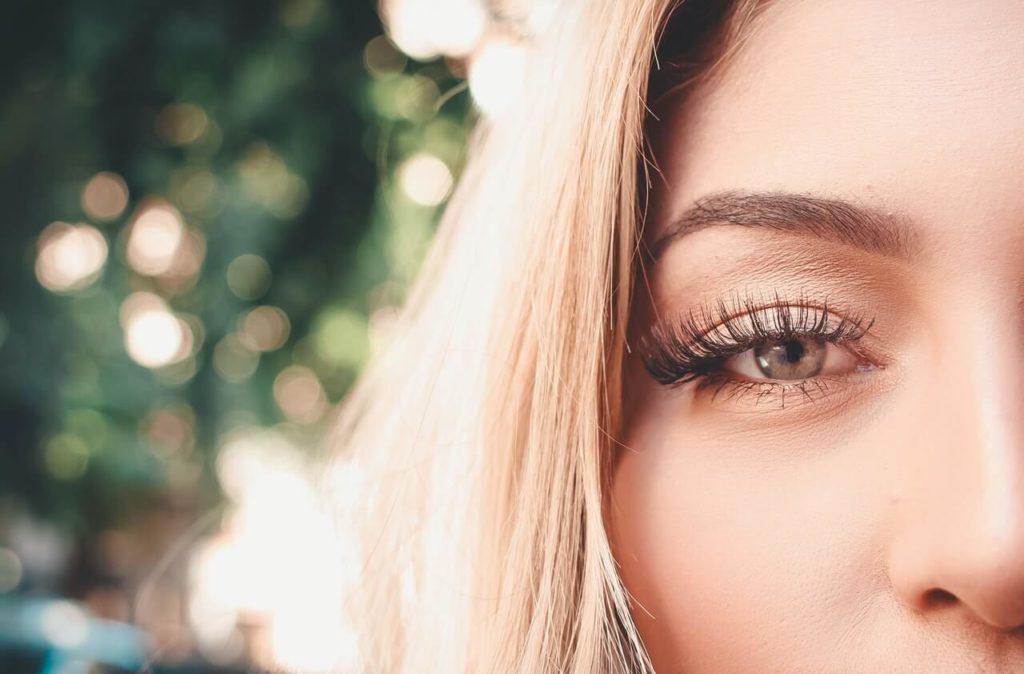 Long eyelashes – a dream of many a woman. An underlined look, expressive setting of the eyes, a sense of comfort, greater self-confidence and saving time while performing everyday make-up – these are just some of the advantages of eyelash extensions. How long does it take to perform the treatment and how long do eyelash extensions last?
Eyelash extensions – a way to look great
Many women wonder how to get long eyelashes by using often untested cosmetics, eyelash serums and even dietary supplements that can be harmful to both the skin and the body. Women also buy fake eyelashes and try to thicken natural eyelashes on their own. Unfortunately, such actions can be dangerous, cause allergies and even corneal or conjunctival infections. Furthermore, incorrect application poses a risk of excessive loss of natural eyelashes.
On the other hand, with proper application of the eyelashes, you can enjoy a beautiful look for several weeks.
The effect of longer and thicker lashes
You don't have too use mascara your lashes every day, you save you time and money
Your eyes look beautiful at any time of day or night
Long-lasting effect
Comfort – you don't have to remember to wash off your makeup in the evening or get up in the morning to do the perfect eye makeup
The eye is optically enlarged and underlined
Types of eyelashes
Can you find a compromise between a natural look, an improved eye contouring and safe solutions with artificial eyelashes? The answer is a treatment which is gaining more and more popularity all over the world – eyelash extensions. Women love a quick and inexpensive way to improve their appearance for several weeks. In our lash studio we make applications from several types of lashes:
Silk lashes – are characterized by lightness and delicate curl, which is very similar to natural eyelashes. Thanks to their low weight they do not load the eyelashes. They belong to the most popular group of eyelash styling materials due to their versatility, durability and diversity of variants.
Mink lashes – more matt lashes with a very natural look. Both types of eyelashes are made of polyester fibre for easy application and durability.
The products we use in our studio are vegan and have not been tested on animals.
Types of lash extension
Choosing the right material guarantees perfect and safe application. How long do eyelash extensions take depends primarily on the materials used, the chosen method and the skills of the beautician. Choosing our salon, you invest in a beautiful appearance, safe application, precision in performance and long-lasting effects.
The classic 1:1 lash extension method – a method that involves bonding one artificial eyelash to one natural eyelash – hence the name one to one. Thanks to this method it is possible to obtain optical thickening and lengthening of the eyelashes, while maintaining the natural look. When using this method you do not have to worry about the risk of eyelashes sticking. The treatment is recommended for clients with naturally thicker eyelashes or for those who want to delicately emphasize their look.
Russian Volume Lash Extensions – a technique consisting in extending and thickening eyelashes several times – from 2D to 8D effect. The volumetric method makes the eyes gain depth. The treatment is inspired by Russian volumetric techniques, where the only limitation is the imagination of the client and the stylist.
Hybrid Eyelash Extension – a combination of different eyelash styling techniques. This method combines the previously mentioned classic 1:1 technique with the addition of light volume to create a natural effect, but also to enhance the look and setting of the eye. This is a compromise between strong volumetric methods and the delicate 1:1 standard method.
Which eyelash extension is the best?
Choosing the right eyelash extension technique is an individual decision. By choosing the first eyelash application, you may opt for the most delicate method – 1:1. It is an ideal solution for women who want to subtly emphasize their look and effectively extend their lashes. Thanks to that you do not need to apply mascara to your eyelashes. For those women who love volume and look with character, Hybrid Eyelash Extension or Russian Volume Lash Extensions is a better solution.
However, the final decision depends on individual preferences and consultations with a beautician. A stylist who knows exactly how to apply lashes and which method will be the best for a particular client will certainly advise the best solution.
How long does it take to apply lash extensions?
The eyelash extension treatment can take 1-3 hours – everything depends on the chosen method, material, preparation. Duration of individual treatments:
1. Method 1:1 (silk or mink lashes) – 30 min to 1h 30 min
2. Hybrid method 1h 30 min to 1h 45 min
3. Russian Volume Eyelash Extension:
2D – 1h 30 min
3D, 4D – 1h 30 min to 1h 45 min
5D – 2h
6D, 7D, 8D – 2h 30 min
4. Lash infills
1:1 up to 2 weeks (35 min)
1:1 up to 3 weeks (45 min)
1:1 up to 4 weeks (1h)
hybrid method up to 2 weeks (45 min)
hybrid method up to 3 weeks (1h)
hybrid method up to 4 weeks (1h 15 min)
Russian Volume up to 2 weeks (1h to 1h 15 min)
Russian Volume up to 3 weeks (1h 15 min to 1h 30 min)
Russian Volume up to 4 weeks (1h 30 min to 1h 45 min).
Each service can additionally be followed by the Lash Tint treatment to strengthen the effect. Lash Tint takes 15 minutes.
Factors affecting duration of treatment:
the amount and density of natural lashes,
makeup (it is better to come to the treatment without eyes painted),
the type of procedure and method,
stylist's experience.
How long do eyelash extensions last?
The length of the effect of thickening and extending eyelashes depends on both technique and skills of the stylist. However, it is important totake care of the eyelash extensions by the client. After the treatment it is recommended to avoid moisture and high temperatures. It is therefore not advisable to go to the swimming pool, sauna or solarium for the first few days. Do not use makeup removal products or creams based on oils. Do not use a curler. Remember that polyester fibre eyelashes (mink/silk) often fall out together with a natural eyelash. Many clients are wondering how to remove lashes, but we always remind them that it is not worth doing it alone. Removing lashes in a beauty salon takes only 15 minutes. If you want to remove the eyelashes, for your own safety and comfort, healthy skin and eyes protection, please contact our salon.
Before and after lash extensions
Do you dream of underlining your look? Are you afraid of doing an eyelash extension treatment? Contact us and we will be happy to explain all the steps of making beautiful lashes! You will see that the effect before and after the eyelash extensions is really great. Save time and money on everyday make-up. Stop worrying about whether the mascara will get smudgy or crumbled. For a few weeks, you only need to comb your lashes with a dry brush. This is ideal for women of all ages. We invite you to familiarize yourself with our offer (including lash lift and tint), and if you have any questions – call us or write an e-mail. Do it for yourself and invest in your look!