Fake eyelashes in Sydney – everything you should know about them!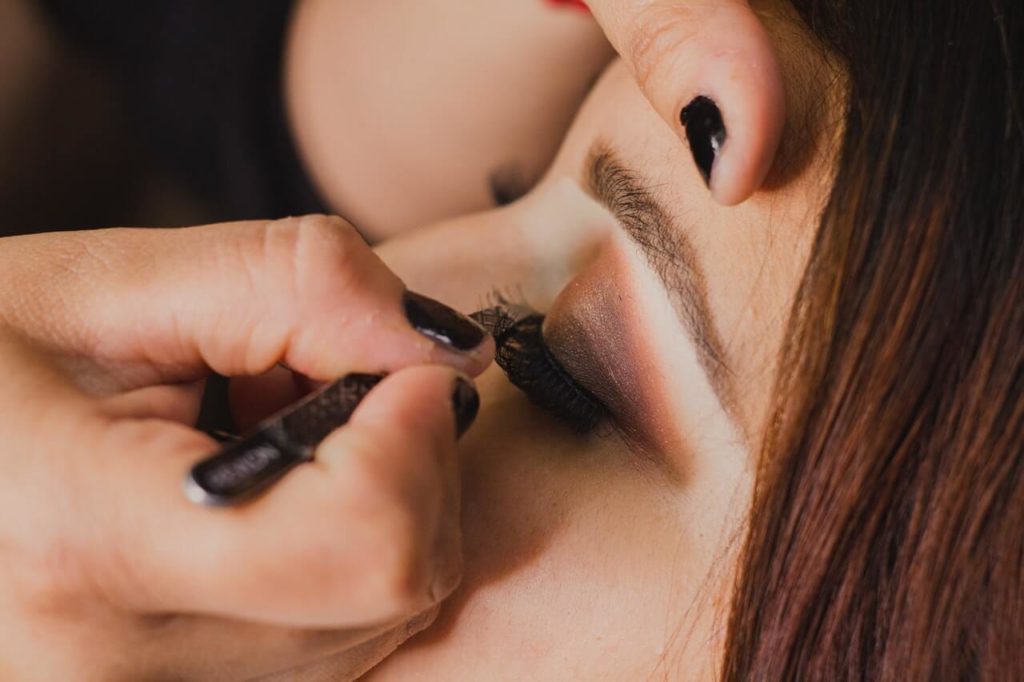 One of the very popular beauty treatments is the application of fake eyelashes, i.e. extension and thickening of the natural eye setting. We are providing you with the most important information about fake eyelashes: how to put them on and take them off, how to clean them, how much do the individual extension techniques cost and which eyelashes are the best.
Fake eyelashes – revolution of beauty
The times when fake eyelashes were only glued for special events and removed after a few hours are long gone. Revolutionary eyelash extension techniques allow to maintain the effect of thickened and extended eyelashes even up to several weeks. All this done in a safe and hygienic way.
Natural eyelashes can be thickened with synthetic, quality eyelash extensions in a professional beauty salon. A good stylist will know how to put on fake eyelashes correctly, guaranteeing a beautiful look and durability of the application.
How to apply fake eyelashes?
You have to admit that the beautifully emphasized eye setting delights everyone. In just 1-2 hours, you can thicken and extend eyelashes using the best products and techniques. However, the application of fake eyelashes is not something that can be performed by everyone. You need skills and experience. It is a cosmetic procedure that requires precision, patience and the use of the best solutions.
Proper application of fake eyelashes is related to several factors:
stylist skills,
the eyelash extension technique used,
products and tools used.
In addition, the conditions in the salon, such as humidity and air temperature should be considered. It is also important to provide appropriate lighting and comfortable conditions for both the client and the stylist. All these factors determine how to put fake eyelashes on in a proper, precise and hygienic way. It is worth mentioning that natural eyelashes should be thoroughly cleaned and dried before application. However, these factors are also an individual issue, as the chosen adhesives better bind on moistened eyelashes for example.
The individual approach of the eyelash stylist
Therefore, the abovementioned individual approach of the beautician is crucial – when you have very curly eyelashes, the stylist can stick fake lashes from underneath. When natural eyelashes are straight, then the best method is to apply the fake lash from the top. The application of the fake eyelash can therefore be done from the bottom, from the side and from the top – individual approach to each eyelash and the right angle will guarantee better access and precise sticking of the fake lash. A common mistake made by unqualified stylists lies in sticking the fake eyelash too close to the eyelid, which can cause discomfort and itching. Sticking one fake eyelash to several natural ones is also an unacceptable mistake. This is a huge burden on one eyelash, which can lead to its weakening and faster loss.
It should be remembered that incorrectly performed treatment may unfortunately result in the rapid loss of fake eyelashes, and even irritate the eyes. Choosing a professional salon and a specialist in this area is important to avoid unpleasant and even painful consequences. Incorrect application may also be associated with itching of the eyelids, perceptible discomfort or pain in the eyes and eyelids.
Contraindications for sticking fake eyelashes include eye inflammation, conjunctivitis and chalazion on the eye. It is also not recommended to apply to people who have an infection of the eye or its immediate vicinity, suffer from excessive loss of natural eyelashes or have very weakened natural eyelashes. A fake eyelash falls out together with a natural one within the life cycle and hair growth.
How to apply fake eyelashes? Useful tips in a nutshell:
Natural eyelashes must be thoroughly cleansed,
A fake eyelash is glued to one natural eyelash,
You should have quality tools and products: tweezers, cleaner, primer, applicators, pads and tapes, glue, fake lashes in different lengths and thicknesses, brushes and other professional cosmetic accessories;
Take care of the correct direction of gluing, the distance between the attachment point and the edge of the eyelid and the amount of glue (not too much),
There are no contraindications to perform the procedure.
How to remove fake eyelashes?
In professional eyelash styling it is important to know not only how to apply fake eyelashes, but also how to remove them in a safe, effective and painless way. You can't rip out the fake eyelashes because you will rip out the natural hair along with the bulb – this will cause pain, weaken your natural lashes and is dangerous. Your eyes and eyelids will be irritated, and you will never want to wear synthetic eyelashes again. In fact, if the application is done and removed correctly, your experience with extensions and thickening will certainly be positive. To remove the fake eyelashes, you need a special liquid or cream and precision, which a professional stylist will certainly have. Thanks to the use of a remover it is possible to remove fake eyelashes without damaging the natural ones. Specialist remover effectively dissolves glue bonding. The way of removing the eyelashes is the same with every extension method.
After thorough removal of fake eyelashes, it is possible to strengthen natural eyelashes with home-made methods or products available on the cosmetic market. It can be a conditioner or serum – during the visit, ask your stylists about recommended products.
How to make fake eyelashes look natural?
One of the most popular methods that ensure the natural look of fake eyelashes is the 2D method. It is based on the fact that only two very thin synthetic eyelashes are glued to one natural eyelash. Thanks to this, each eyelash is thickened and extended, without the so-called theatrical effect. The 2D volume method is ideal for everyday wear: for work, school, meetings with friends and even a date. You don't have to use additional mascara on your eyelashes to look and feel beautiful.
How to choose fake eyelashes?
The cosmetic market in terms of eyelash type and volume methods is constantly developing. In the past, synthetic eyelashes were not willingly used, today they are an ecological, safe and cheaper version of mink eyelashes. They maintain high quality and guarantee the same visual effect. The choice of the type of lashes and the volume method will surely be advised by a professional stylist. First of all, trust your specialist and choose a reputable salon, do not try to buy and apply eyelashes yourself.
How to clean fake eyelashes?
Not only the application, but also the subsequent care of the lashes is important. How to clean fake eyelashes- this is the issue that affects the durability and look of the application. The problem was addressed in the article: How to take care of eyelash extensions? In short, it is important to avoid humid environment, oil-based cosmetics and all kinds of activities that could damage fake eyelashes, e.g. using a curler or touching fake eyelashes with fingers or nails. It is best to use water-based fluids with added vitamins and nutrients.
Changing the appearance, improving the eye setting, saving time on making daily make-up or cleaning it – these are just some of the advantages of fake eyelashes. It is worth remembering that strong natural lashes are a guarantee of longer durability of application. Avoid waterproof eye shadows and eyeliners. You will see that the application will improve your eye contouring in such a way that you will not want to use additional cosmetics!
Do you need fake eyelashes in Sydney? We are at your disposal!
FAQ
1. Which stylist to choose?
Above all, find an experienced stylist who works with quality products, accessories and cosmetics. In our salon we use only reputable products, vegan and not tested on animals.
2. How much does the application of fake eyelashes cost?
The cost of applying eyelashes depends on the volume method (from $ 50 to $ 250).
3. How long do the fake lashes last?
The application of the fake eyelashes is for 2 to even 6 weeks. Proper care and strong natural hair on which the fake eyelashes are held is essential.